I suppose it only makes sense to blog about it (although I do realise that blogs seem to have lost their way in recent years thanks to the advent of Facebook, Twitter and other instant forms of blogging) still I've never been an "initial adopter" before and therefore don't mind falling back onto tried and tested methods.
Now, as I have mentioned in my thread on the forum on Saturday I will be meeting the gym owner to discuss what the gym has and he has agreed that I can take photos of the equipment (which consider he has several social media accounts himself makes sense) and therefore I will post these pictures here as well so you can all see what I intend to do. In the meantime though, I would like to ask the following questions (and would appreciate as many answers as possible)
1) I have a training outfit (see attached picture) but am pondering the idea of whether that's a little overboard, so would like to ask "Do I keep that outfit or swap it for a gym vest and training shorts?"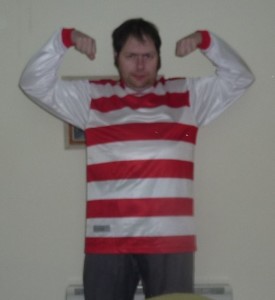 2) There's a very strong chance that on a number of occasions I will be on my own, therefore how do I train safely without a spotter?
3) I do not believe I would be anywhere good enough to even consider a bodybuilding contest, but if I find myself in a posing mood, what is the best way to taking posing photographs?